We may earn money or products from the companies mentioned in this post.
The best jobs for stay at home moms aren't always the easiest to come across. This is super true if you're looking for that balance between not too much work. But, you need just enough work for it to be worth it. That was the exact same situation I was in. When I first became a stay at home mom almost two years ago, we were surviving. It was far from a comfortable survival though.
If you've read any of my previous posts, you'll see I write a lot about my son. He's almost 3-years-old and was diagnosed with Autistic Disorder in November of 2017. You can read some about my journey from working mom to stay at home mom here. I won't bore you with the details in this post. I've already done that once.
Instead, I'm going to get straight to the point: the best jobs for stay at home moms. Ideally, if you're a future or current stay at home mom, you'd love to have a job that allows you to have so much free time you can enjoy a two-week vacation in the Bahamas. The truth is, I really don't know how to get you there. I've never even touched the sand in the Bahamas myself.
What I CAN tell you, thanks to my own mistakes, I can help you at least live pretty comfortable as a stay at home mom. You see, when I first began my journey I had no real idea what I was getting myself into.
In fact, truth be told, there are days that I yearn to just have a part-time position outside of the home. I lived the full-time working mom position (45+ hours a week) for 6+ years. Twice during that time, I did it pregnant. Each time I work up until a week until my due date. While there are many people, who are in similar situations, may disagree, I feel as if being a full-time stay at home mom is much more demanding than a full-time position.
That is just my opinion though. Some careers or personal opinions may make the statement completely false to some people. Totally cool. I just wanted to share with you how I feel about the situation before you dive into my list of the best jobs for stay at home moms.
The Best Jobs for Stay at Home Moms: Evaluate YOU First
Different jobs from home require different schedules, expectations, communication preferences, and so on. Before you dive into the work at home force, you need to be honest with yourself.
That means you need to sit down, with a pencil and a piece of paper, and evaluate what you are honestly willing to do. Then you'll be able to narrow dow the best jobs for stay at home moms that meet your needs.
When I first began, I took on clients for digital content creation through a freelance online service. I knew right off the bat I wouldn't become a millionaire. After all, I had no experience. That's why I was okay with the first offer that came in.
In fact, after my first client, I became so confident, I began applying for almost any opening that I felt capable of doing. The problem was, I advanced, the payment I was accepting didn't. Loads of the jobs actually increased in size. Many times, an increase in size actually would mean a decrease in payment offer.
There were many days I spent almost all day and all night, many mornings until 4 a.m., in front of my laptop composing posts. These posts were anywhere from 300 – 2000 words. I was accepting pennies for these hours and words.
I won't get into all the sleep deprivation stories. Instead, I'll just say, you're a much better, balanced, and happier person when you get to sleep and eat properly. I promise. What I'm saying is, don't jeopardize your happiness, or your family's happiness, just to earn a buck. It's not worth it.
Before Finding the Best Jobs for Stay at Home Moms: Make a Schedule
Before you begin your search, make a realistic schedule that you're comfortable with. Keep in mind all things like appointments, daily activities, weekly activities, holidays, family time, etc.. Even keep in mind things like your preferred/dream eating (breakfast, lunch, dinner, etc.) times.
Make sure you also block off time for your time. I even recommended adding considerations in there for ample spouse and family time, too. Don't overwork yourself and lose sight of what's important. While these may be what I believe are the best jobs for stay at home moms, you have to do what is best for you.
Don't leave your schedule open during times that you normally would be sleeping. It's dangerous to leave your schedule "open-ended" like that. Believe me.
Make sure you make yourself regular business type hours that are comfortable for you and STICK with them. Don't bend for anyone. Once you do it once, it will be expected often and others will catch wind of it and attempt it, too.
Evaluate What You're Comfortable Doing
Just like working away from home, the best jobs for stay at home moms also have certain requirements.
These requirements may range from:
occasional commuting

speaking with the client's on the phone

using the technology you already own/are required to purchase

specific education

drug testing

job skill tests

video/phone interview

trial work

Contracts

credit checks

prior employment verifications

background checks
That only lists some of the requirements you may find with some work at home jobs. There are many more you may run into, too.
That's why it's important to be honest when you submit your resume and/or employment application to a company. They may require you prove what you know prior to offering you a position. Most of the times, the way they require you to prove what you know isn't one of those "studies and fake it" things you can do. You really gotta know your 'iish.
Make a list of previous or currents jobs you've done or currently do. Personally, I'd only list the things you enjoy doing. That way you don't become trapped in the whole idea of at least you're making money but you're dying inside. Also make a list of things you enjoy doing and your hobbies, too.
Many people have found success in advancing their once "hobby" into a successful at home career.
You should also make a list of all your achievements, education, certifications, and degrees/diplomas. This will come in handy when you're reading a job description and evaluating it's possible education requirements.
Best Jobs for Stay at Home Moms
Now that you have you together, let's start the fun part! Let's take a look at some great opportunities that are the best jobs for stay at home moms. As long as you follow the steps above, you'll be able to achieve working from home and still enjoy your family life, too!
Share Your Knowledge with Products that Compliment Your Passion
Is there something you're known for being passionate or knowledgeable about? For example, I spent over 10 years working in the pet industry. It's common for friends and family to approach me in regards to animal questions. Maybe you're the go-to when it comes to new technology or new trends in general.
You see, I don't do very well at asking people to buy things. The main reason is that I am usually always broke. I know what it feels like to have to turn someone down when they present their product or service to me. Plus, I always feel like I'm being viewed as one of those pushy car salesmen. When, in reality, just like them, I'm just trying to make a living.
On the other hand, let's say I  had the opportunity to promote a pet-related product that is in line with a common question I'm asked by pet owners. I may be inclined to take that opportunity. Because people already trust my knowledge of the industry. If I believe in the product and recommend it during talking with a friend, the product basically does all the talking.
Who knows? Maybe one day I'll create a priceless tool that solves a huge problem in the pet world. Pet owners will go crazy about it. I may be able to say "Hey! This is my top pick for options when it comes to the best jobs for stay at home moms." Because I'll be famous and hopefully super rich. Most of all, I just hope I would be happy. Personally, for myself, money is far from the "fix-it-all" some claim it to be. 
So, find a product or service on a topic you're already trusted on and passionate about. Don't pick something you know nothing about, especially if you suck at trying to convince people like myself. Also, please don't pick something just because the return seems amazing if you're completely against a product. It will come back and bite you hard on the you-know-what.
If you're the go-to when it comes to all things accessories, you may enjoy working with Stella & Dot. Stella & Dot allow you to be the stylist when it comes to all the accessories they have. If fashion is your thing, they have a great offer for new stylists that join their vision.
STELLA & DOT LIMITED TIME SIGN-UP OFFER: JOIN AS A STYLIST FOR $199 AND GET A TAJ TOTE ($98 VALUE) AND $350 IN ACCESSORIES
If you want to have flexibility and an in-charge opportunity, you can do that through partnering with an encouraging company like Stella & Dot. You can also do that by offering something you've created or services you may offer that highlights your knowledge.
Office and Clerical Work for One Company or Many
Depending on how flexible you'd like life to be, many companies hire workers from home for office work. The beauty behind this is you have options on how you'd like to start this option. Finding the best option is dependent on your ideal situation.
Let's say you like a routine, daily schedule that you would work if you were away from home. You may want to find one company/person to hire you. In most cases, even with remote positions, companies who are looking for employees on their job board are looking to give this employee a pretty set schedule.
On the other hand, let's say you just want to dip your feet in the water without the obligation of a contract. Freelance office work may be more suitable for your situation. In this scenario, you'd find work through either word of mouth, internet searches, or freelance networks. Usually, these jobs are projects where a client may only need one or two things done. This is a great way to build your connections, too.
One freelance website I have personally used on a regular basis is Upwork. If I would've put my all into it, I would've made a good bit of money using the website. There are tons of opportunities posted on a regular basis. The best part is that there's a lot of work available for people who are new to freelancing.
Create a Blog
Now, I won't say you can just start a blog and BOOM you're a millionaire. Although you need to know what you're writing about, there's more work involved in that. It's not a get rich quick scheme.
In order to really start off on the right foot, you may have to spend a little money. You'll need things like a domain name and website hosting. Sure, you could start a blog with a free option from popular websites at Wix. But, you'll notice once you really want to add specific touches, you're prompted for a paid plan. Plus, you'll want a domain name that represents your blog.
I don't see a lot of bloggers talk about the web hosting option HostBlast. I have to tell ya'll, Moms Uncut is the first website I've hosted with them. I am very pleased. Especially for the price I paid!
The package I have with HostBlast for hosting my website is the Bronze Package. It's only $6 a year!
HostBlast's Bronze Package Includes:
1GB SSD Web Space

Unlimited Bandwidth

Host Unlimited Domains

Unlimited E-Mail Accounts

Unlimited MySQL Databases

Private Nameservers

cPanel

Website Builder PRO

Multi PHP Versions

SEO Tools

Free Comodo SSL

WordPress Installer
When I paid for hosting, I also bought this domain name (www.momsuncut.com) for a year. My total cost for the whole year was only $17! That's a really good deal. Because, in the past (before I did my research), I paid $29.MONTH for my domain and website hosting. This time I only paid $17 for the whole year! Yeah, I'm calling that a winning situation.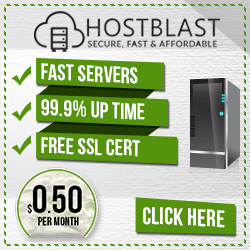 You can't beat the uptime of the Mom Uncut website. Honestly, I can't remember a time someone has come to us and said our website was down. We also have plugins installed that notify us if the website goes down. We haven't received one notice.
HostBlast offering the easy-to-use WordPress Installer is also another one of my favorite features. WordPress is another must-have when it comes to building your blog. For some, in the beginning, there may be a curve with learning WordPress. But, once you nail the in's and out's you won't regret it and you won't turn back.
Making Money with Your Blogging Skills
In order to gain a return on your mad blogging skills, you'll need to do research and little work on your end. There are a few different avenues I know you can go in order to make money blogging. Each one having its pros and cons. As well as each other having a different amount of work and return.
Ways you can monetize a blog include:
Ad Placement

Sponsored Content

Paid Reviews

Providing Virtual Services

Providing a Digital Product

Affiliate Marketing
As of lately, it seems as the most popular options include sponsored content, affiliate marketing, and providing services and/or products. Although ad placement and paid reviews are still very popular and profitable if done in a tasteful way. The last thing you want is your space on the web looking like a HUGE digital billboard. We all know how a thousand ads can slow a website down, too.
I've found that affiliate marketing is a pretty profitable avenue to take when it comes to monetizing your blog. I think one of the reasons behind this is because you can expand it to social media, too. Which makes it easier to reach a larger audience.
Affiliate marketing should actually have its own entire post. Adding that to my to-do list right now. It's just a great way to link with companies you already trust. As well as a great way to learn about new companies you may end up loving. Then you simply promote things you believe in, people buy based on your recommendation, and you receive a piece of the pie!
Event/Travel Planning
Does everyone go absolutely berserk over your kid's birthday parties? Are you known around town as the person who throws some pretty amazing parties? Then party planning may be a career option to explore as one of the best jobs for stay at home moms.
The same would work if you're always bragging about how you either went on the wildest vacation ever. You can even apply the same concept if you're the one who brags about how they scored a vacation worth $3,000 for $175. If you can make that magic happen, I'd almost be willing to bet on you making a killing with those skills.
Depending on how well you handle pressure, timelines, or your own schedule depends on how flexible a route like this is. If you have a schedule and you know you'll stick with it without bending to client pressure, you may have no problem with flexibility.
On the other hand, I won't say as far as best jobs for stay at home moms this ranks top of laid back jobs. Don't get me wrong. Parties and vacation are fun! But, they are also two very important parts of a person's life. Not only important but can also be expensive. As a result, they want to make sure everything is right, on time, without delay, and perfect. There will be pressure here.
Best Jobs for Stay at Home Moms: Other Options
The options above are great if you're looking for a pretty steady income. But, maybe you're not sure you want to be held to a schedule. You may also not have the desire to answer to a boss or create any product to promote online. Maybe you're not looking to fill a full-time income.
If you're just looking for a way to make a few bucks online, there are also options there. Keep in mind, with some of these you may never see a dime. Also, most payment for these tasks are minimal because they are short or quick tasks.
Completing small tasks does add up when you're talking money. Usually the add up is slow though. The minimum you must have to cash out is usually on the higher side, too. I've seen some programs pay pennies for task and have their required cash out amount at $100. I can honestly say, I never reached my cash out with any of those companies before I forgot I joined them.
Take Surveys
Of course, there are plenty of survey websites that will reward you for your input. The thing about this is there are a lot of websites that are scams. You'll end up losing money and maybe even your identity.
I know, I get it. I wouldn't think anyone would want to really steal my identity. Afterall, I have no cool background and my credit score wouldn't even get you an approved loan on a lollipop. But, credit cards aren't the only thing your identity can be used for. It can also be used to commit crimes you have no idea about.
Here are some legit options if you're looking for survey sites to earn money with.
Complete Tasks for People in Your Local Area and Beyond
There are plenty of opportunities to create your own schedule while helping people out in your own 'hood. One example includes the well-known Uber. Who doesn't love a YouTube video of a hilarious Uber trip?! With Uber you earn money by taking people where they need to go.
Another familiar option is TaskRabbit. TaskRabbit offers some opportunities for online work only tasks. But, many jobs available include some type of commuting. You'll find everything from picking up groceries to a small home repair. Another website similar to TaskRabbit is Gigwalk. They offer pretty close opportunities to TaskRabbit.
Another truly smart option is Babierge. With Babierge you can rent your baby gear to people who are traveling. It's a simple idea that could make a huge impact on someone's day.
As parents, we all know what it's like to forget that thing that makes traveling with baby easier. You could literally save a strangers day.
Other websites that offer you with small projects or task for money also include Fiverr and Amazon mTurk. Fiverr is well known among the creative digital community. We all know, well Amazon. Which who is obviously behind Amazon mTurk.
The concept behind Fiverr is all in the brand's name. You can offer tasks and people can request tasks for as low as $5! While tasks start at this price, they can offer different options at higher pricing. Which is great if you have additional services you can offer than a client also needs.
Amazon mTurk is backed by Amazon. Which is a very trusted name throughout homes worldwide. The thing with mTurk is the tasks pay literally pennies when you first begin. You also have to put in quite a bit of work to even get accepted for tasks that barely meet the $1 mark.
Now, there may be a better way to operate the Amazon mTurk program. I haven't put much research into it. If you know a better solution, let me know down below!
Best Jobs for Stay at Home Moms: Need a Little Boost?
Although you may dream of stay at home, some of our best jobs for stay at home moms may seem unreachable. I'll be honest, becoming a stay at home mom isn't for everyone. I know I said above it's harder than working full-time for myself. The reality of it is, I was placed where I am in life for a reason.
How many of you want to wake up every day with a negative outlook on life? I mean, I get it. There are some days where that seems like the only option. It's one of those days where the words "Calm down." are far from comforting. Instead, they invoke rage and hostility towards the ones you love. I think most of us have been there. I don't know about you. But, that's not an ideal happy daily life for me.
Instead, I'd like to wake up with a positive view and take the day head on. At the end of the day, I want to feel as if a goal has been reached for. Hit or miss, we tried. I also want to feel as if my family is in their happy place. Because those are my people. There's nobody like them.
So, while I feel as if my new position is hard work, I am hooked. I can't imagine missing out on all the important milestones I've been able to actually witness. Somedays I feel like a mad woman and I'm pretty sure I don't have any friends anymore. I'm also having to buy products to make my skin younger. I lied to myself and said that would never happen. It's a lie. It does happen.
Despite all of that, I am in my happy place. That place where my family and I exist ready to take each day on by the horns.
If you're stuck on deciding if being a stay at home mom is for you, I've got a great resource for you. The Work at Home Super Bundle of Ultimate Bundles. This bundle includes over $1500 in resources that help you start your work at home career. All while teaching you how to properly juggle work at home life and life in general.
The Work at Home Super Bundle includes:
23 E-Books

1 Audio Book

9 E-Courses

4 Printable Packs
There's a lot of resources packed into this bundle that will help you in your search of the best jobs for stay at home moms. While the contents are valued at over $1500, the bundle price is much lower than that.
It's only available until May 31st, 2018. So, if you're interested in learning more about living life like a boss in a balanced way, make sure you snag it before then.
Ultimate Bundles: Stay at Home Mom Super Bundle
Have you already, or are you currently successfully living the stay at home mom life? Share your experiences in the comment section below. I'm super it would be super helpful to some mamas out there struggling with the decision to stay at home or to not stay at home. Help some mamas out, pros!